Artist Names
Emily Hutchings
Lai Yi Ohlsen
Date
February 7, 7—10pm
& BY APPOINTMENT
Documentation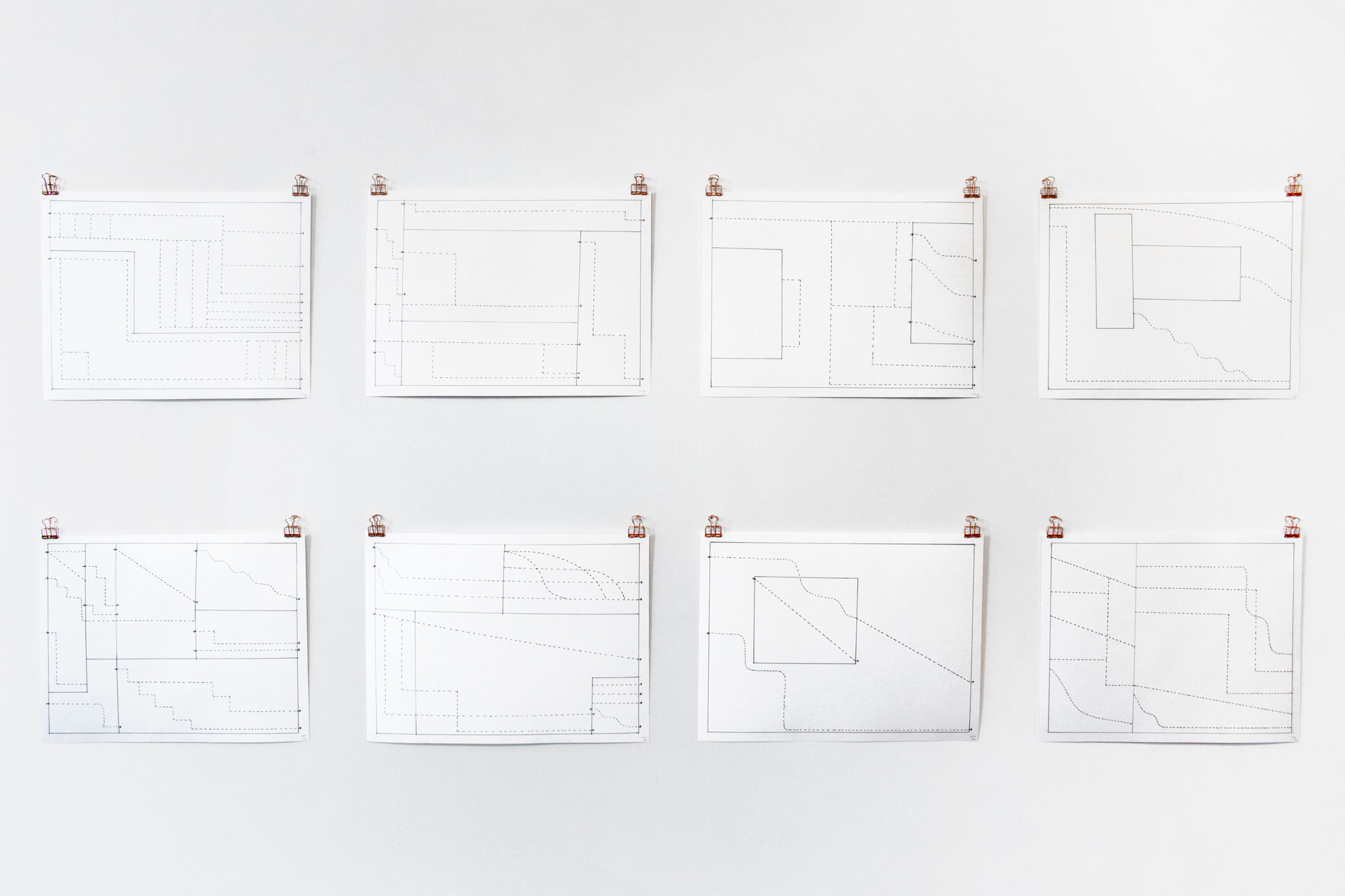 Show Description
Spatial Systems for Everyday Living features works by Emily Hutchings and Lai Yi Ohslen that operationalize algorithmic, diagrammatic, and repetitive systems of meanings and relationships. The exhibited works center embodied and analog approaches to abstract systems. Whereas Ohlsen translates the condensed visual language of early computer art into participatory choreographies, Hutchings' works emphasize the repetition and meditative slowness of the physical technology of weaving. Taken together, the works allow participant and viewer to consider how time and space are experienced and translated across different media.
Lai Yi Ohlsen is a New York, NY based media artist, dancer and technologist, who often uses code as a set of open-ended instructions for participatory and movement-based works. For Spatial Systems for Everyday Living, she presents TIME SEQUENCE CHOREOGRAPHIES FOR A ROOM, a series of twenty diagrammatic drawings that function as choreographic scores. Ohlsen's simplified scores explore rhythm and movement through the concept of "sequence diagrams" in software engineering, which indicate how a message is sent and received. Additionally, the works take inspiration from early digital artist Manfred Mohr, who created some of the first algorithmically generated artworks in the 1960s. In collaboration with members of the audience, Ohlsen will perform a real-time translation of the drawings into movement on the exhibition's opening night.
Visual artist and poet Emily Hutchings, currently residing in Albuquerque, NM, works across a variety of media, using a minimal and spatial-sculptural language to convey varied states of feeling and being. In Spatial Systems for Everyday Living, Hutchings presents three works from a recent series of wool weavings. Hutchings began to consider themes of slowness, elimination, and meditation through graphite drawings, and turned to wool to deepen her treatment of these themes and embrace the tactility of the material. Translating drawings for the loom is slow and puzzle-like, emphasizing the step-by-step, serial nature of this way of making. Like her work with text, drawings, and metal sculpture, Hutchings' sparse, undulating compositions recall the movement of bodies in space.
Library